Torbay Tattoo Tales - My contribution
Volunteers
Volunteer
tattoos
I have really enjoyed the Tattoo Exhibition experience, in spite of some uncertainties before it began.  I have always liked contemporary tattoo designs, but I had little idea of their history, although I had read that before WWII aristocratic women and members of the Royal Family had tattoos.  The historical aspects of the exhibition were so well presented, and the videos of local people added a special dimension.
The visitors I have talked to have mostly been very impressed with the breadth and depth of the exhibition, the amount of material on display, and the historical information.  The 100 Hands have provoked many gasps of amazement!
Those visitors with tattoos whom I have approached have almost all agreed to share their 'tales' – (which has involved seeing more underwear than may be found in the lingerie department of M&S!)  People have provided fascinating stories and incredible tattoos and those who are professional tattooists have given me much interesting and useful information.
As an Art History student it was good to talk to Dr. Matt Lodder, and he was kind enough to send me information for my Dissertation, which is on – Tattoos!  So the exhibition has provided me with a great subject and some wonderful information.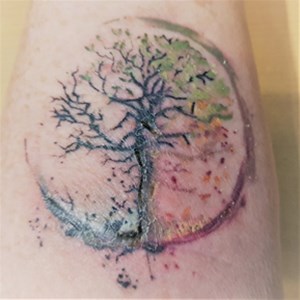 To celebrate both the exhibition and the dissertation (which is the final paper for my course)  I have had a tattoo myself.  The first one I have had, but possibly not the last?  It was an interesting, if a somewhat painful, experience, but I am very happy with it.
I will really miss the 100 Hands being part of my life (although not the incessant 'London Calling'!)  and all the lovely people with their beautiful – and dreadful – tattoos, and their 'tales' of celebration, memory, experience, and loss.
All in all it has been a wonderful experience.